Welcome to our Canada Au Pair programme!
Location's Available: All over Canada

Job Description: Tending to the children's daily physical, emotional, social and intellectual needs. Light housekeeping duties such as doing the children's laundry, tidying up the kids rooms, etc.
Requirements:
- Min 250 hours of childcare experience
- 2 references (at least one of these has to be childcare related)
- Medical approved
- A current Criminal Record Check
- An Application and Letter and Video to the future host family introducing yourself and explaining why they'd like to become an Au Pair in Canada (this comes a little bit later)
-Languages Required: English.
-Nationality accepted: Please see the list of the 34 countries accepted below.

Hours: 25-44 hours per week depending on the family needs.
Length of contract: Usually 6-12 months.
Package Offered: Meals, a private room however the families are allowed to charge for room and board which would come out of your salary.

Salary Per Month: 8-17 Canadian Dollars per hour depending on the province you are placed.
Interview Notes: Online interviews available.

Other Information:
You as an Au Pair will be required to apply for a working holiday visa. Please see info below before applying.
'Working Holiday Visa'
The Scheme: 'International Experience Canada'.
The 'Working Holiday Visa' is essentially a 12 - 24 month open work permit.

Fees:
-CAD $255 to obtain the 'Working Holiday Visa' (government fees)
-GBP £199.99 program fee
-Medical: Dependent on location

Processing Time: This can take around 8-12 weeks to receive the final approval. At that time, you will have 12 months to enter Canada.
INTERNATIONAL RECRUITMENT
The Marmaris Recruitment Ltd Group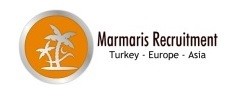 For further info about our Canada opportunities, please click below: